Inizio dei fenomeni di instabilità della Sciara del Fuoco
Start of flank instability in Sciara del Fuoco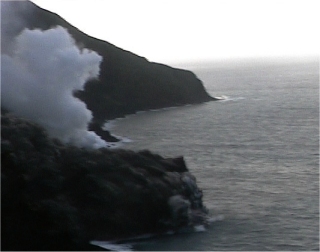 Ore 13:11 circa:
Flusso piroclastico che arriva sul mare ai piedi della Sciara del Fuoco, ripreso da M. Pompilio dal bordo orientale (vedi sito 1 mappa )da una distanza di circa 6-700 m . Questo flusso genera una onda di tsunami di dimensioni limitate.
Pyroclastic flow arriving on the Sciara del Fuoco shore. View from E rim (see site 1 in map). This flow form only a limited tsunami wave.
Collasso principale e relativa onda di tsunami
Main landslide and related tsunami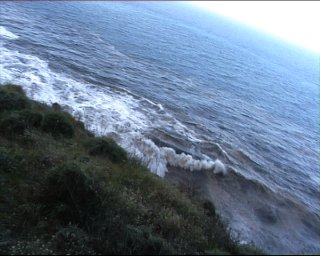 Ore 13:19 circa:
Nei primi fotogrammi si osserva sullo sfondo le nubi di vapore e di cenere che si generano nel corso dell'evento di frana principale. Nei fotogrammi successivi è visibile il ritiro del mare e la successiva onda di tsunami che colpisce Punta Labronzo. Il punto di osservazione è la Pizzeria dell'Osservatorio di Labronzo, circa 200 m a NE dal sito di osservazione precedente (vedi sito 2 nella mappa).
In first frames on the background there are ash and vapor clouds formed by the main lanslide. In the following frames a large tsunami wave is recognisable. The point of view is located at Pizzeria dell'Osservatorio di Labronzo, about 200 m NE from the previous site (see site 2 in the map).